Getting Started
iMIS 20 is an Engagement Management System (EMS)™ that helps you better engage members, donors, and other constituents — as well as staff — anytime, anywhere, on any device.
It includes constituent relationship management, commerce management, member self-service, online fundraising, social engagement, private communities, and mobile access in one seamless cloud-based system. Constituents and staff can access the complete system from a web browser. Plus, iMIS 20 has the flexibility to work with an existing Content Management System (CMS) or — for many organizations — the power to manage their entire website.
iMIS 20 eliminates costly integration efforts, enables you to gather better constituent intelligence, and helps you make smarter business decisions. To assist your organization, iMIS includes the following tools:

iMIS Staff site
The iMIS Staff site is an attractive, easy-to-navigate, cloud-based site that your staff can use to manage your organization's day-to-day activities. Staff users can add contacts, update contact and organization information, complete transactions, and help members renew their membership, register for events, purchase items from your online store, and more. Using the powerful security features of iMIS, you can control the areas and content that your staff can access.
The Staff site also includes the powerful RiSE platform for website management, so you can configure and maintain the appearance, navigation structure, and content authoring environment of your iMIS websites.
The RiSE Quick Start Sites are out-of-the-box iMIS websites that can be easily copied in order to create customized sites for your organization. Quick Start Sites demonstrate some of the more complex enhancements in iMIS. These Quick Start Sites showcase new Dynamic Content Items (iParts), enhanced functionality, and UI improvements as they become available.

Advanced Accounting Console
The iMIS Advanced Accounting Console is a streamlined, easy-to use interface for most iMIS setup and management functions where an administrator can define and set up iMIS. As future functionality is added, some options will be moved to the Staff site. Although the Advanced Accounting Console is a Desktop client installation, you can access the Advanced Accounting Console from the Staff site by creating a navigation link on the Staff site that can be used to launch the Advanced Accounting Console within a separate browser window.

iMIS Classic
While development of new functionality, setup, and options are available from the Staff site and Advanced Accounting Console, iMIS Classic (Desktop) is still available for clients who are accustomed to the traditional desktop interface. You can also access iMIS Classic (Desktop) from the Staff site by creating a navigation link that can be used to launch iMIS Desktop in a separate browser window.
For more information on iMIS Classic (Desktop), navigate to the Classic Helpsite.
Using the iMIS 20 Helpsite
The ASI Documentation team offers a Helpsite for each iMIS edition. From the Support Portal, go to Support > Documentation and select your iMIS edition to open the iMIS Helpsite.
You can also access:
Video tutorials – Access to the iMIS video tutorials
Documentation archives – Access to previous Helpsite versions
Other ASI Products – Links to other ASI products that can be used with iMIS

How do I use the Helpsite?
The Helpsite contains several features to help you access iMIS documentation (how-to articles, implementation, and video tutorials). Here are a few key features available on the iMIS 20 Helpsite Home page:
Easy-to-find navigation available at the top of the site. This navigation will persist across the Helpsite.
Prominent search bar
Big button icons to common areas
Links to Support, other ASI products, and to send feedback to the documentation team
Note: To search on a phrases instead of individual words place quotations around the phrase in the search bar.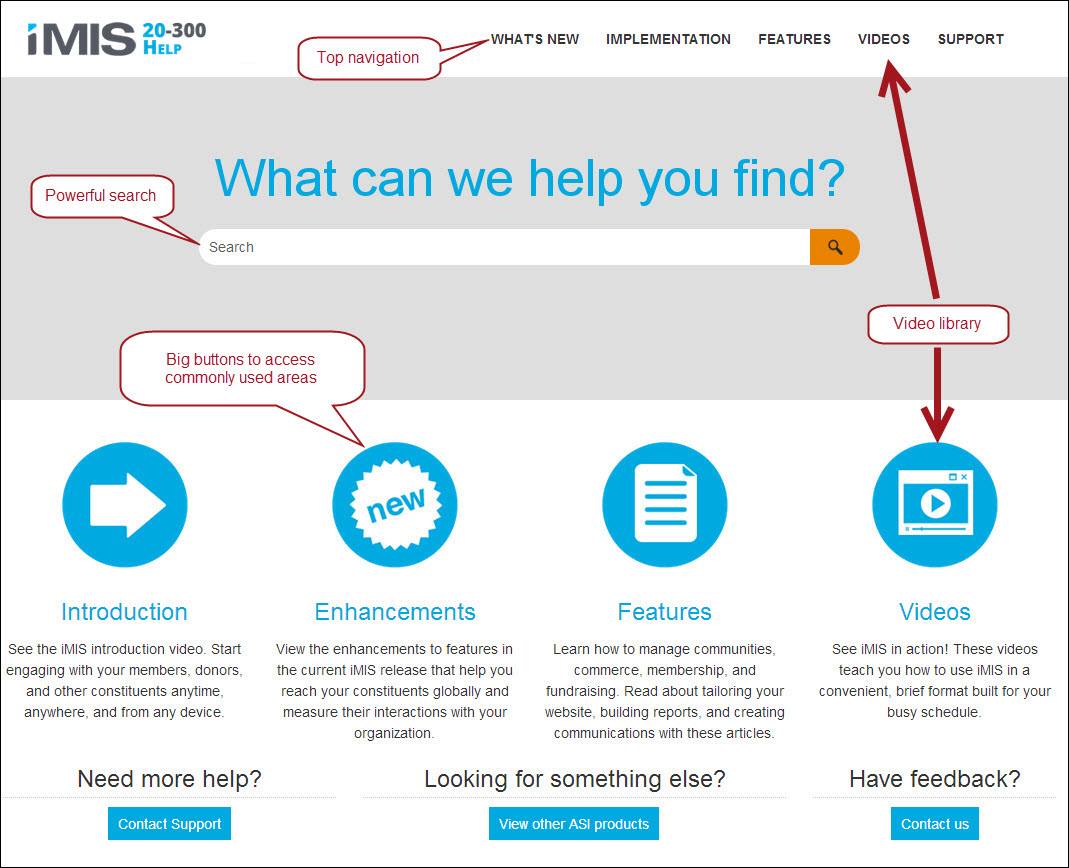 When you select topics, features available on topic pages include:
Easy-to-find navigation is available at the top of the page
Prominent search bar
Breadcrumbs to help you navigate
Expand or collapse drop-downs to easily navigate through the article's content
Simply remove highlighted search-term keywords

Refresh the browser to restore highlighting

Print entire article
Topic-specific right hand navigation to help you easily find other articles in that area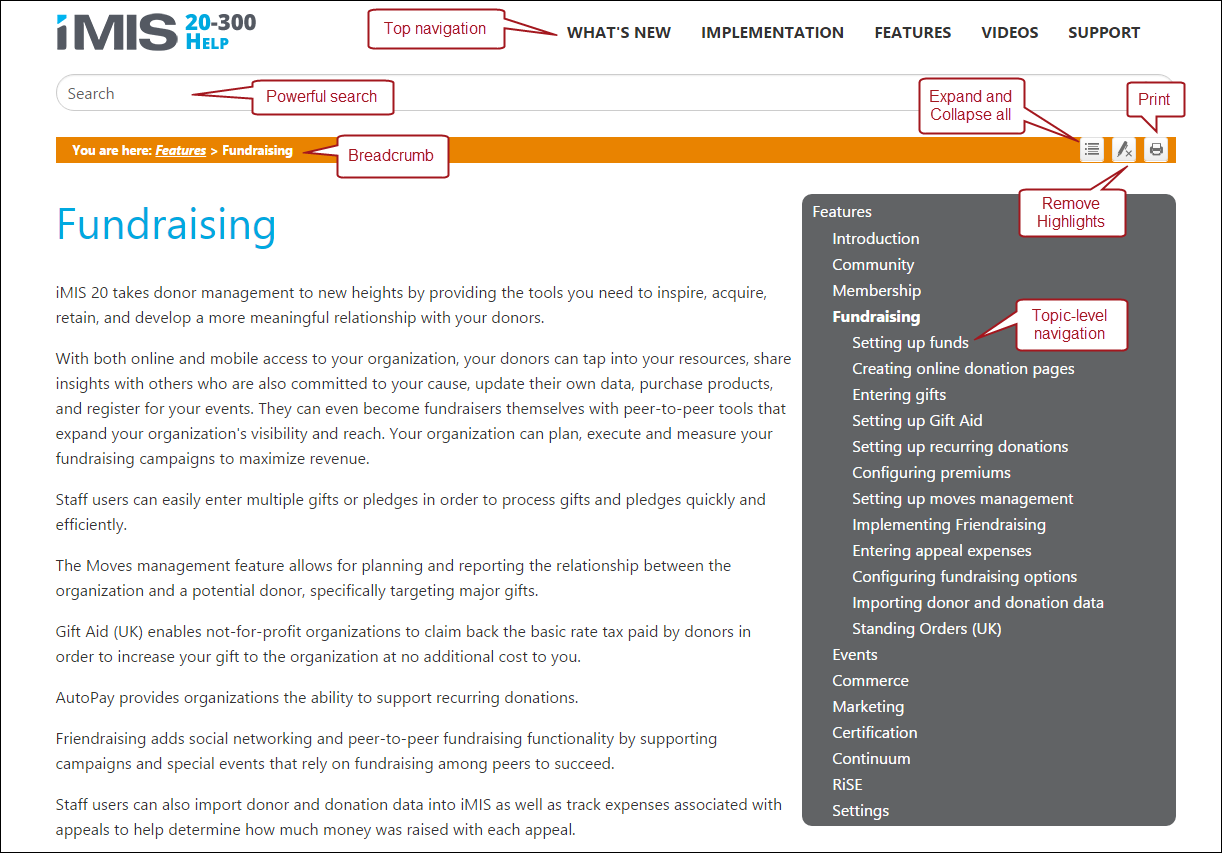 iMIS Video Tutorials
The ASI Documentation team is building a library of helpful video tutorials. The videos landing page contains an introductory video for each area in iMIS. To see additional videos in that area, click the View button below the video.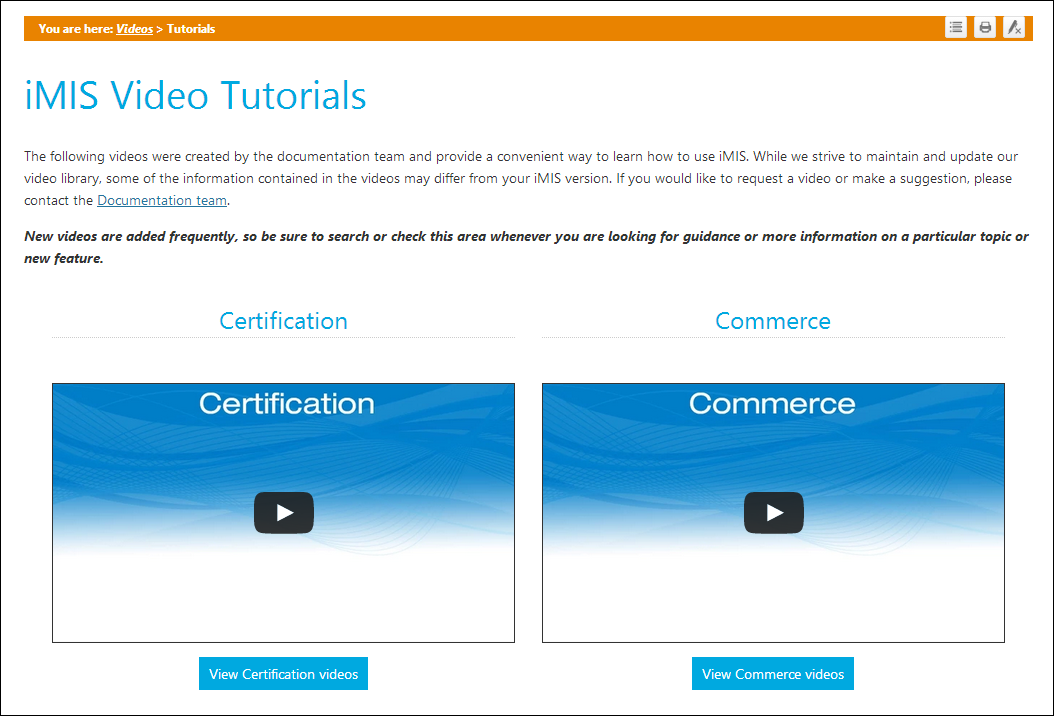 For example, when you click View Certification videos, you will see up-to-date videos for Certification.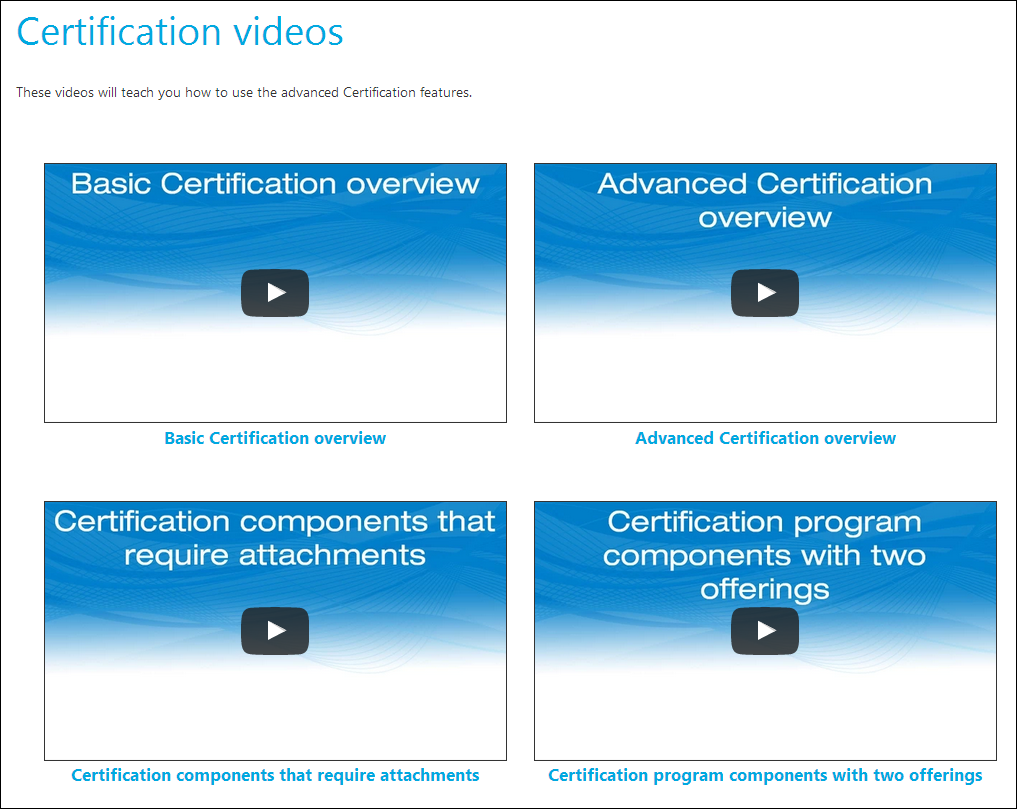 Documentation conventions
Boldface: An on-screen menu, option, window title, or other element that you should locate, select, or click.
Menu > Item: Specifies the path to follow when navigating to a specific area.
Note: Used to emphasize points, remind users of something, or to indicate special instances of an outcome.
Warning!: Used to call out the possibility of an error, or to warn of a special circumstance.

PLUS

: Indicates that the article contains information about an iMIS Plus feature. This icon can also be seen in the Staff site on Plus navigation items. This icon will appear in the Staff site whether you have purchased the additional Plus features or not.
Note: The documentation might not match your product. Your organization can customize iMIS, license fewer features, or limit your security access, all of which affect the fields that you see in the product interface. Moreover, the documentation does not cover every window or window element. Windows and fields that are clearly defined in the product interface itself, or that should otherwise be intuitive, are not described in the documentation.