Panel Designer
Panels are custom displays of data that you are able to name, build, arrange in grids, and add to your site. Using panels, your users can browse, edit, add, and delete their data, as you specify.
You can import your existing user-defined tables directly from the Panel Editor content item configuration. In addition, your Activity table data is automatically available as a source, so that you can use and extend that data. Panel sources can include existing user-defined tables (defined in the UD_Table table) and other user-defined sources (identified by the Panel Editor via the DB Maintenance Tool).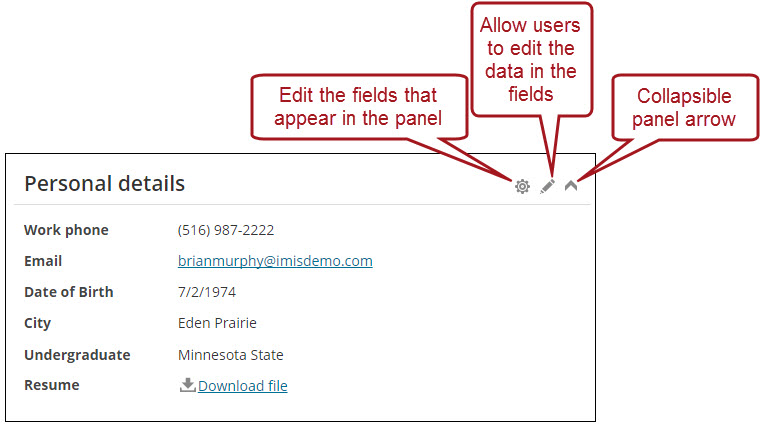 You can conveniently manage your custom data directly from the web pages where you place these content items:
Panel Editor - Creates panels and shows one panel
Panel Collection Editor - Combines existing panels into tabbed displays
Note: Panels are shared. When you update one panel or field, it updates within every content item that uses it.
With the Panel Designer, you can craft reusable panels that combine fields from many tables. You can also define new data structures (business objects and properties) to manage information for your organization. Without special tools or knowledge of the iMIS schema, you can add data sources right from your browser. When you save the panel, you save your newly created data sources as iMIS business objects.
Note: You can see your new data source show up as a business object in Business Object Designer, but it will be read-only. Continue to edit and manage these special sources in Panel Designer. A ContactKey is automatically generated for the business object that represents the panel data source. The ContactKey is a unique value used to join the business object to other panel data sources and business objects in IQA. It is also used as the iMIS ID for linking in IQA.
Access the Panel Designer in the following ways:
From the Staff site, go to RiSE > Panel Designer. Select an existing panel to edit, or select Add panel definition to create a new panel.
Edit the Panel Editor content item directly from a content record by clicking the gear cog icon.