Authorizing credit cards
Card authorization is the process of obtaining payment authorization when a credit/debit card transaction is entered. Credit/debit card transactions can be authorized across these areas of iMIS:
AR/Cash: Sales transactions and cash receipts windows
Billing: Dues and subscriptions payments
Fundraising: Gifts, pledges, and fundraising payments
Service Central: Payment entries
Card Authorization allows you to search by card number or customer ID to find credit/debit card transactions throughout iMIS.
Note: If Advanced PCI Compliance options > Do not retain cardholder information is enabled, iMIS saves transactions without cardholder data and shows only gateway reference number and authorization code fields.

Card authorization requirements
iMIS ships with the card authorization and Service Central modules. To use card authorization in iMIS, you need the CCAUTH license key. You also need a high-speed Internet connection to handle a high volume of transactions.
To use card authorization, you must:
Set up a merchant account at your bank or another financial institution.
Set up a payment processing account. Your payment processor must be supported by your payment gateway service. If you are doing business outside of the United States, use a payment processor that handles international currencies.
Register with a payment gateway service and install additional gateway software as required. iMIS natively supports the following gateways:
Note: European debit card transactions in iMIS cannot be processed with either gateway. Instead, your AiSP must implement a custom gateway interface.
Note: iMIS Payment gateways are compatible with all cards that can be processed as credit.
Before you take any of these steps, you should understand what card authorization is and how it works.

The card authorization process
Card authorization allows you to accept a credit/debit card payment from a customer and, within a matter of seconds, have the card transaction approved over the Internet by your bank. You also have the option of having transactions deferred for authorization at a later time.

Click to view image
Diagram and steps from PayPal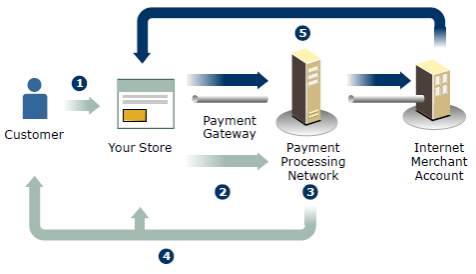 Credit card authorization includes the following steps:
A customer purchases a product or service from a store.
The payment gateway encrypts data and securely sends it through the payment processing network.
The transaction is reviewed for authorization or decline, and the results are sent back through the payment gateway.
The customer receives a confirmation receipt and the order is fulfilled.
Once the transaction is processed, funds are transferred from the customer's bank account to the merchant bank account.

Card authorization terms
Before you get started, it is a good idea to become familiar with some of the terms that are used throughout this section. The following is a list of some of the most commonly used terms.

Setting up card authorization

Using card authorization
Once you have set up the AR/Cash options and tested your credit/debit card gateway, you are ready to use card authorization.
Credit card transactions can be processed in iMIS with either deferred or immediate authorization, as defined by the associated card authorization account.
European debit cards, however, can be processed only with deferred authorization, and only if your Solution Provider has implemented a custom gateway interface for European debit card authorization.